Terms And Conditions
These terms and conditions ("Terms") govern and apply to anyone accessing or using the website located at www.followyournightmares.com and any other website(s) owned and/or operated by Justus Bends LLC (including any of its subsidiaries or corporate affiliates, collectively, "Justus Bends LLC," "we," "us" or "our") and any of their associated web pages (collectively, our "Services"). Please take some time to review these Terms for our Services. By accessing or using the Services, including purchasing any products through the Services, you represent, warrant, understand and agree: (1) to accept, comply with, and be bound by these Terms; (2) that you have the right, authority, and capacity to abide by these Terms; (3) to comply with all applicable laws, rules and regulations concerning your access to and use of the Services; and (4) you are of legal age to form a binding contract and are not a person barred from receiving services under the laws of the United States or another applicable jurisdiction. Certain services may be subject to additional terms, guidelines or rules, which will be available in conjunction with those relevant services, and those additional terms will become part of these Terms when you use those services.
Justus Bends LLC reserves the right to update, change, modify or otherwise alter these Terms at any time. If any material changes are made to these Terms, Justus Bends LLC will notify you by posting the revised Terms on the Services or notifying you through the Services. ANY ACCESS OR USE OF THE SERVICES BY YOU AFTER THE CHANGES GO INTO EFFECT SHALL CONSTITUTE AND BE DEEMED YOUR AGREEMENT TO THESE TERMS. If you do not want to be bound by these Terms, do not use or access any part of the Services. Justus Bends LLC may terminate the Services or any portion thereof, any website or webpage within the Services or any products or services offered through the Services, or terminate your right to access or use the Services or any portion thereof without notice and at any time for any reason. In the event of such termination, you are no longer authorized to access the Services, and the restrictions imposed on you with respect to the Content (as defined herein), and the disclaimers, indemnities, and limitations of liabilities set forth in these Terms, shall each survive such termination.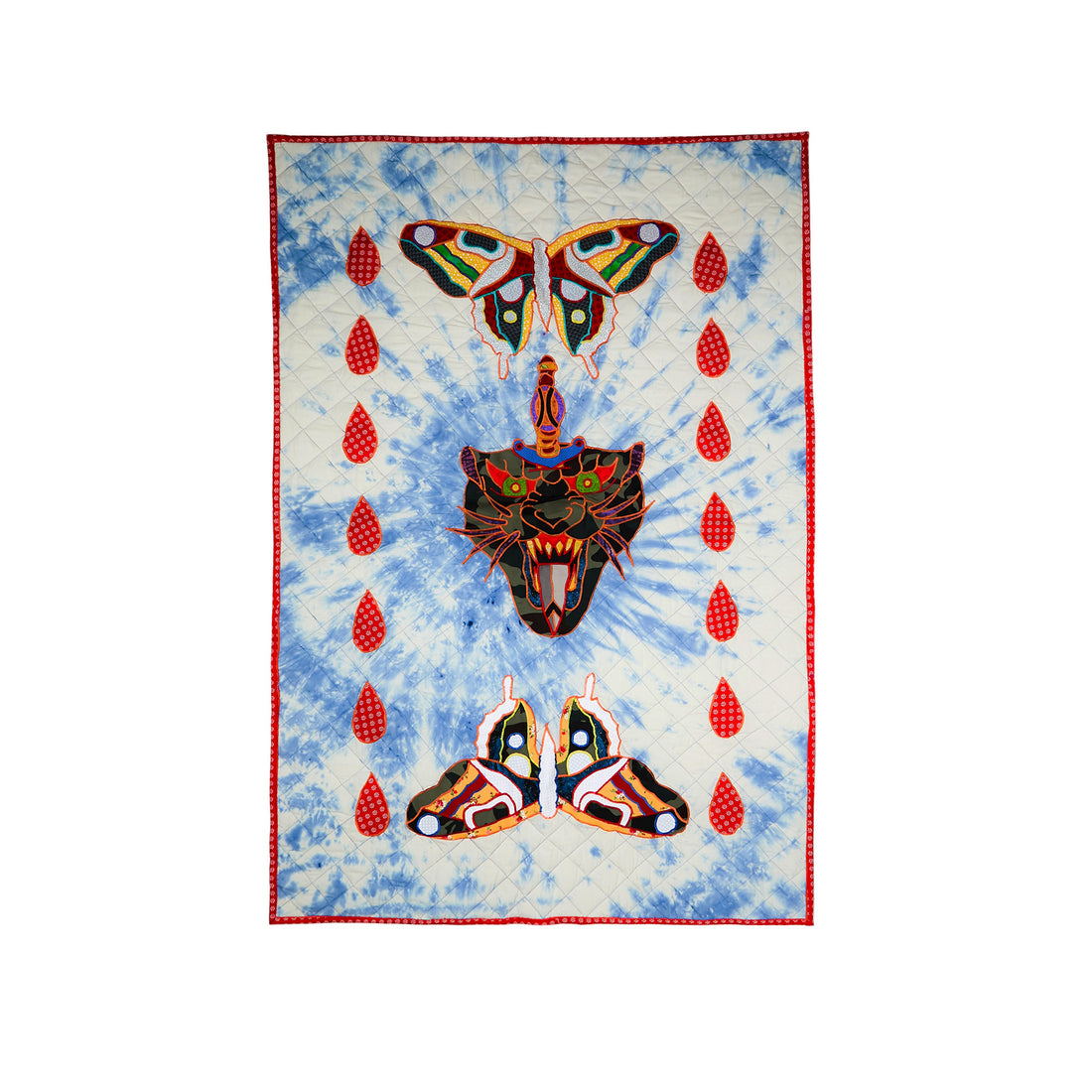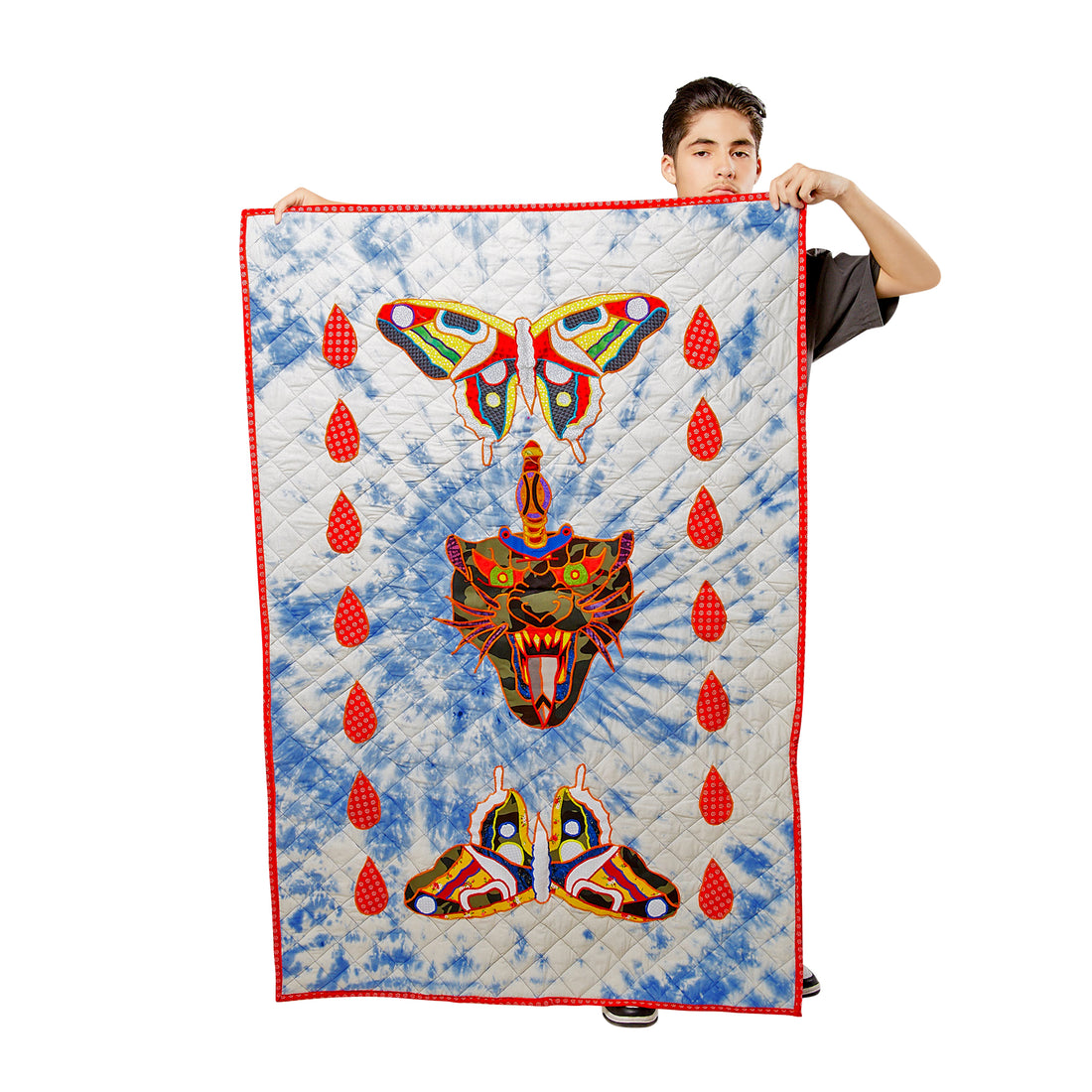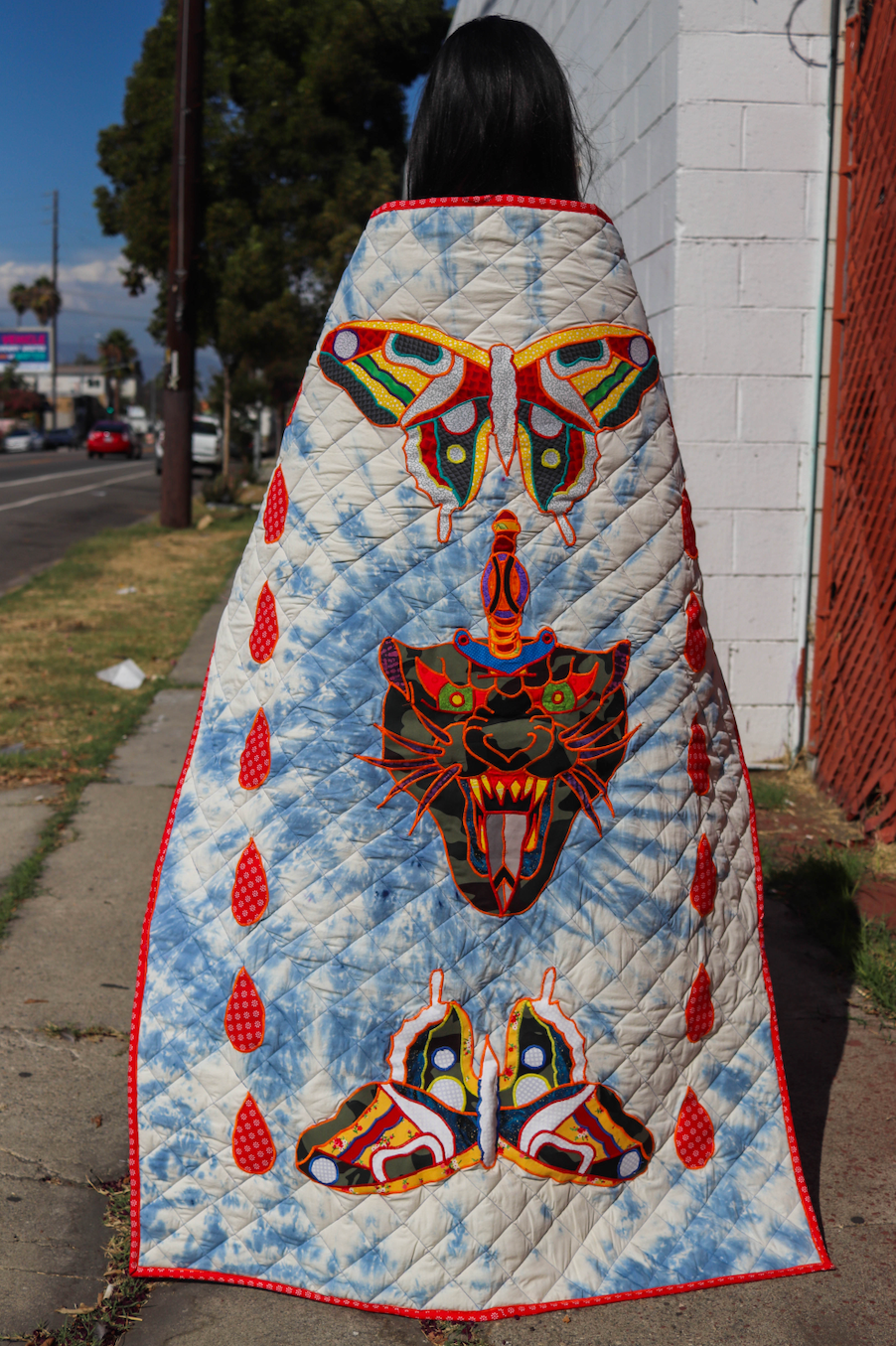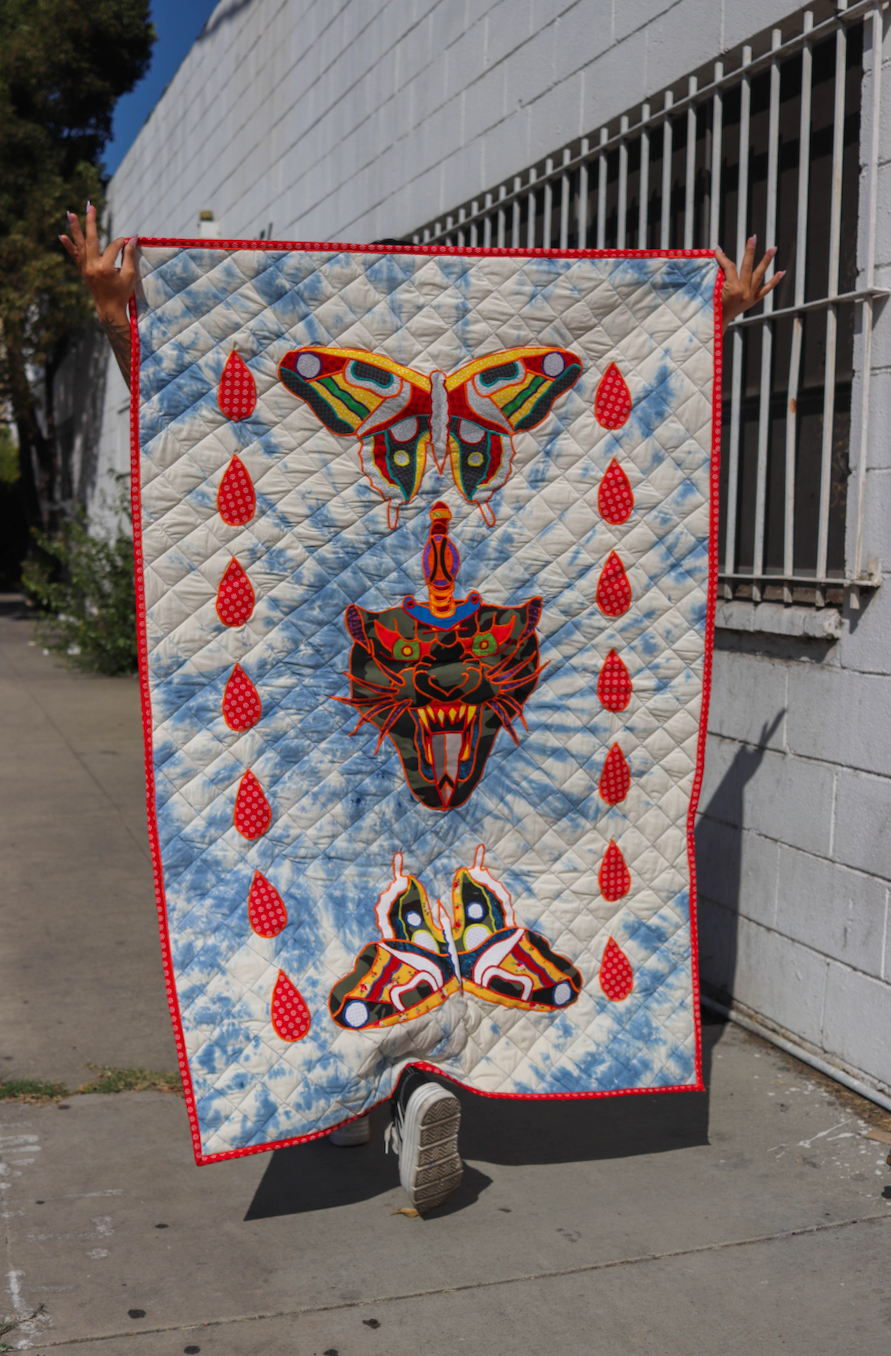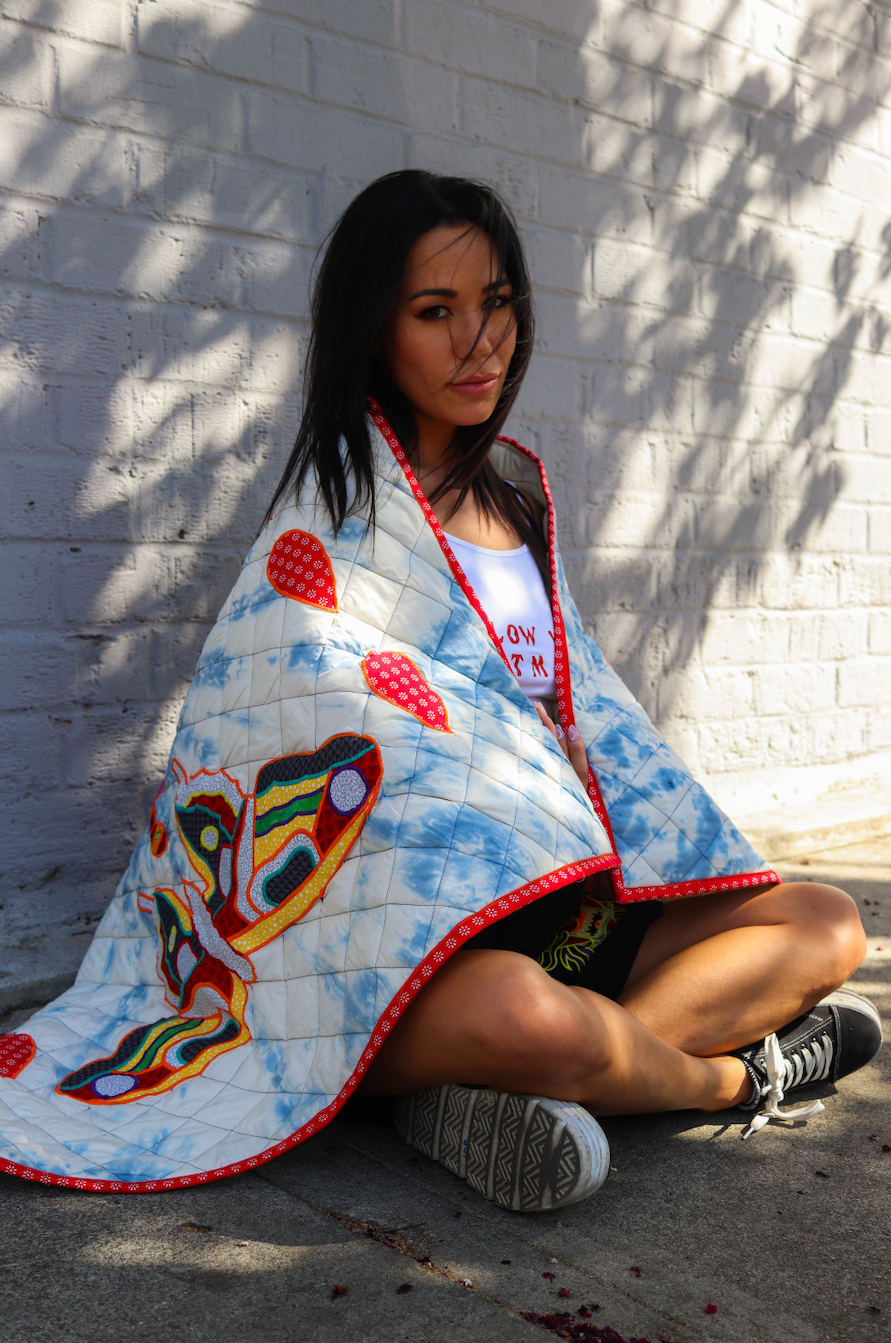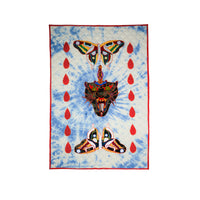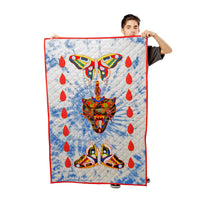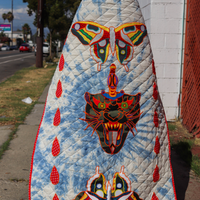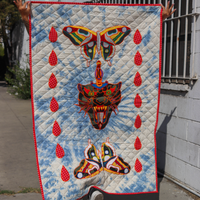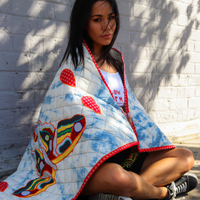 In traditional tattooing the dagger represents good and bad. The dagger stabbing the panther head represents pain, struggle and hate. The flying butterflies in opposition represent love, alchemy and beauty. The intention of this quilt as a wall hanging is to bring balance to its space.
hand dyed, appliqued and quilted
one of one
58" X 38"